Welcome To
Aachen
Living and learning in the heart of europe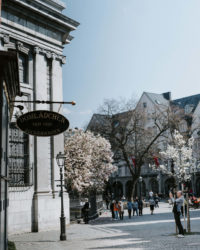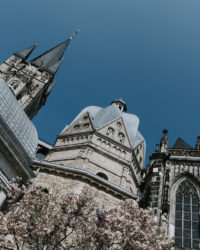 Welcome to Aachen

Discover A Vibrant

Student

City

Aachen's unique location, cultural diversity, and affinity for driving innovation truly make it the heart of Europe.

With a population of approximately 260,000, of which over 50,000 are students representing about 140 nationalities, Aachen is a vibrant student city and a melting pot of cultures. Located in the far west of Germany at the border to Belgium and the Netherlands, many influences can be found throughout the city's architecture, residents, and flavorful cuisine. Learn more about living in Aachen and moving to Aachen below.
High-Quality Health Care System
The Oldtown

A Magical Place Full Of

History

As one of the oldest cities in Germany, you can discover exciting history in Aachen. Especially the 1,200-year-old cathedral, which is a UNESCO World Heritage site that also serves as Charlemagne's final resting place, is a must for locals and tourists alike. The cathedral is surrounded by an ancient Oldtown with small cafés, shops, and public places where cultural events take place.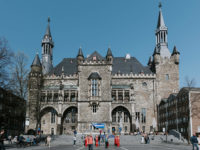 Public Transport

Effortless Reaching Many

Destinations

Aachen is a charming city where you can easily find your way around. Most places are within walking distance. A bus network, for which you automatically receive a regional bus ticket when you start your studies, takes you to more distant places. Modern means of transport, such as e-scooters and e-bikes, are available to you via online apps and are also great fun to ride. Aachen is connected to the rail network via four stations. Two airports can be reached at a distance of less than 100 km. You can also reach these impressive European cities from Aachen within only a few hours: Cologne, Düsseldorf, Berlin, Munich, Zürich, Prague, Brussels, Amsterdam, and Paris.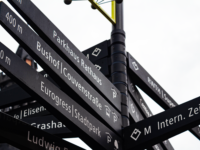 RWTH Aachen Campus

Future

You Can Touch

Studying in Aachen also means studying in one of Europe's most important high-tech locations. Discover future technologies at RWTH Aachen Campus.
Housing Information

When looking for an accommodation in Aachen, you have multiple options to choose from:
University Housing
You can rent a single apartment or a room in a shared flat offered by Studierendenwerk of RWTH Aachen University or RWTH International Academy. The rent in university housing options is always all-inclusive, and the rooms are furnished. Also, RWTH Business School students benefit from a discount.
Housing in the Private Sector
Most students live in private accommodations in and around the city of Aachen, as that provides flexibility. If you choose an apartment on the open housing market, you can also live, for example, in the suburbs or on the outskirts of the city or choose a shared apartment with locals to make new contacts.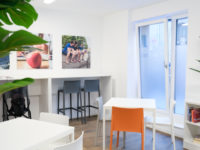 Visa Information
Before attending your study course in Germany, you need to apply for a student visa. The application process may take two to three months. Generally, the following documents are required for the visa application:
valid passport;
letter of admission;
proof of financial resources;
health insurance coverage.
Note: The requirements for a visa application may differ depending on your embassy. Please make sure you verify the requirements for the necessary documents beforehand at the embassy in your region.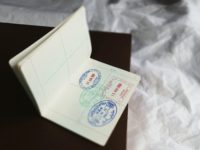 Insurance Information
Health insurance is mandatory for every citizen in Germany and a prerequisite for enrollment at RWTH Business School. Therefore, you need to register with a public or private health insurance. The regulations for EU students and non-EU Students differ:
Students from EU countries are covered by the insurance in their home country and are thereby exempted from registering with a German health insurance provider. The German public health insurance provider must approve this exemption.
Students from non-EU countries need to register with a German health insurance provider and have the choice between a public or private insurance provider. Consultants at the health insurance company will explain the differences.
FAQ

Frequently Asked Questions
The following information describes the average cost of living in Germany (2023).
Rent (incl. heating and electricity) €430.00
Food and general expenses €400.00
Health insurance €95.00
Compulsory fee for the state media authority,
radio and TV ("Rundfunkbeitrag" per month/per household) €17.50
Mobile phone contract €20.00
Internet fees (per household) €20.00
Liability insurance €6.00
Total €988.50

Further information on costs of living in Germany and financing can be found here from the DAAD (German Academic Exchange Service. Another detailed overview based on personal experience and research can be found on the blog SimpleGermany.
Health Insurance (mandatory)
Having sufficient health insurance coverage for the entire duration of your stay in Germany is mandatory. Failure to meet this requirement may result in the denial of a visa or time-limited residence permits.

Private Liability Insurance (highly recommended)
Along with the obligatory health insurance, RWTH Business School strongly advises all students to consider obtaining liability insurance ("Haftpflichtversicherung") and accident insurance ("Unfallversicherung").

Home Contents Insurance (highly recommended)
Although no form of home insurance in Germany is compulsory, RWTH Business School recommends to cover yourself against unfortunate risks such as house fires and burglaries.
Valid passport that is valid for the entirety of your intended stay in Germany
Letter of Admission from RWTH Business School, which serves as proof of your acceptance our their program
Blocked Account: Demonstrating sufficient financial resources is crucial, and one way to fulfill this requirement is through a blocked account. This account guarantees a predetermined amount of funds to cover your living expenses while studying in Germany.
Health Insurance: it is essential to have comprehensive health insurance coverage that meets the specified criteria for the duration of your stay
APS certificate: if you obtained your previous education in China, Vietnam, or India, you will also need to obtain an APS certificate to authenticate your degree certificates and transcripts
Please note that these requirements may vary, and it is advisable to consult the German embassy or consulate in your home country for the most accurate and up-to-date information.
In our experience, the visa application procedure may take two to three months from the day of submission of your visa application to the day that you actually receive the visa, provided that you have submitted all the necessary application documents to the Germany embassy or consulate in your country. Therefore, international students who are required to have a visa, should take time into account and schedule an appointment with the embassy or consulate to apply for a visa as early as possible
When applying for a student visa to Germany, applicants who earned their degrees in India, China, or Vietnam are required to present their APS certificate. The visa application will be unable to be processed if an APS certificate is not submitted.
We strongly recommend starting the application as soon as possible since the APS application procedure takes some time. The APS certificate must be in your possession before applying for a visa, though you can submit your application for our study programs and APS application at the same time. Any delay in your APS application could hinder your admission to our program and your visa application.
The APS certificate's sole function is to verify the validity of transcripts and degree certificates for candidates from India, China, and Vietnam. For applicants who studied in Hong Kong, it is not required. Please refer to the following link for more information about the APS
For Indian applicants:
APS New Delhi: https://aps-india.de/
For Chinese applicants:
APS Beijing: https://www.aps.org.cn/verfahren-und-services-deutschland/chinaverfahren
APS Shanghai: https://www.aps.org.cn/aps-am-gk-shanghai
For Vietnamese applicants:
APS Hanoi: https://vietnam.diplo.de/vn-de/willkommen/aktuelles/aps/1236800
"Sperrkonto" in Germany, is a specific type of bank account designed for international students or individuals applying for a student visa or residence permit in Germany. It serves as proof of sufficient funds to cover living expenses during their stay in the country.
From 1 January 2023, the presumed annual requirement that must be paid into the blocked account when applying for a visa amounts to 11,208 EUR.